Supreme Court declines case accusing Donald Rumsfeld of torture
The Supreme Court declined to hear an appeal arguing the US government violated the constitutional rights of citizen José Padilla by detaining and subjecting him to harsh interrogation as an enemy combatant suspected of having links to Al Qaeda.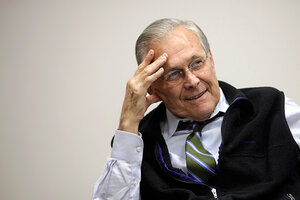 Jacquelyn Martin/AP/File
The US Supreme Court on Monday declined to take up a case examining whether government officials who order the alleged torture of a US citizen on American soil can be sued for violating the citizen's constitutional rights.
Apparently, the answer is no.
The high court rejected, without comment, an appeal filed on behalf of former enemy combatant José Padilla, who was held for 3-1/2 years in military detention. Mr. Padilla was subjected to harsh interrogation techniques to break him psychologically and force him to reveal everything he might know about Al Qaeda.
"The Supreme Court's refusal to consider Jose Padilla's case leaves in place a blank check for government officials to commit any abuse in the name of national security, even the brutal torture of an American citizen in an American prison," said Padilla's lawyer, Ben Wizner of the American Civil Liberties Union.
"To date, not a single victim of the Bush administration's torture regime has received his day in court," Mr. Wizner added in a statement.
"It is precisely the role of the courts to ensure that allegations of grave misconduct by executive branch officials receive fair adjudication," he said. "That vital role does not evaporate simply because those officials insist that their actions are too sensitive for judicial review."
US citizen as enemy combatant
Padilla's case rose to prominence because he was the first American citizen arrested in the US to be designated an enemy combatant and subjected to open-ended detention and harsh interrogation tactics.
---