Jerry Sandusky trial: To boost 'alternative story,' should he take the stand?
A defense attorney for Jerry Sandusky said his client may testify. In legal circles the move is seen as a risky one, but perhaps necessary, to counter the compelling evidence against him.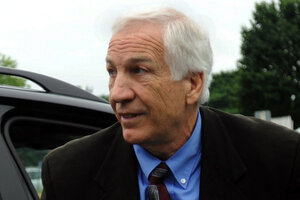 Nabil K. Mark/Centre Daily Times/AP
The jury in the criminal trial of Jerry Sandusky listened last week to the emotional testimony of eight alleged victims who said the former Penn State assistant football coach sexually abused them when they were minors.
This week, the defense may put on the stand someone who is expected to provide an "alternative story" that will not dispute the context of the alleged abuse – mutual showering, for example – but who will maintain that none of the encounters led to sexual interaction: Mr. Sandusky himself. In his opening statement last week, defense lawyer Joe Amendola suggested to jurors Sandusky would take the stand.
The decision behind putting Sandusky on the stand is being weighed in legal circles as a risky move, but possibly a necessary one considering the evidence weighed against him and the high number of alleged victims involved. Most defense attorneys avoid putting their client on the stand because it focuses jurors on their credibility, creating vulnerabilities that increase with every next word out of their mouth.
"If the jury does not believe a defendant is telling the truth, they won't pause to convict," says Peter Henning, a law professor at Wayne State University Law School in Detroit, Mich. "What makes [the Sandusky] case different is you had very powerful testimony from eight witnesses. You can try to say maybe they're all making it up, but once you get to eight witnesses, it's hard to slough that off. They're almost in need of throwing a Hail Mary because, in a sense, what else do you have to lose?"
Sandusky faces 51 criminal counts related to alleged abuse involving 10 boys over a 15-year period. All of the alleged victims met Sandusky through his children's charity, The Second Mile.
---