What's next in the Jerry Sandusky Penn State sex abuse case?
Jerry Sandusky has been convicted of sex abuse involving 10 boys over 15 years, but the story is not over. There will be further investigations, the trial of two former Penn State officials, civil lawsuits against the university by Sandusky's victims, and a likely appeal of the conviction.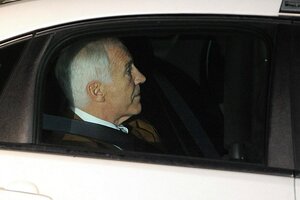 Nabil K. Mark/Centre Daily Times/AP
After an emotionally-wrenching trial, Jerry Sandusky has been convicted of 45 counts of sexually abusing 10 boys over a 15-year period. The court list of boys (by number, not name) and the horrors they experienced is difficult to read.
Now, Sandusky – the former assistant football coach at Penn State, thought to have been a loving mentor to many boys – awaits sentencing, knowing that he likely will spend the rest of his life in prison.
But the story is far from over.
• His lawyers say they will appeal the case, declaring that they were not given enough time to prepare for what they say was a rushed trial.
"We told the trial court, the Superior Court, and the Supreme Court we were not prepared to proceed to trial in June due to numerous issues, and we asked to withdraw from the case for those reasons," attorney Joe Amendola told the Associated Press.
• Two former Penn State administrators – athletic director Tim Curley and vice president Gary Schultz – faces charges of lying to a grand jury about an incident in 2001 when then-assistant coach (and former Penn State quarterback) Mike McQueary says he came upon Sandusky sexually assaulting a boy in a football team shower.
---