Giant cross on government land: Supreme Court declines cases, for now
The Supreme Court refused to take two cases in a longstanding church-state dispute over the 43-foot Mt. Soledad cross on federal lands in La Jolla, Calif. The court expects that lower courts may yet resolve the issue.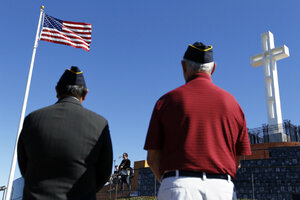 Mike Blake/Reuters/File
The US Supreme Court on Monday declined to take up two cases involving a long-running dispute over whether the display of a 43-foot cross on government land atop Mount Soledad near La Jolla, Calif., violates the separation of church and state.
The cases offered to once again bring to the high court the thorny issue of whether religious symbolism on public property violates the First Amendment's prohibition of the establishment of religion by government.
The hilltop site has been the location of a cross since 1913, with the current large cross on the hilltop since 1954. The underlying land was owned by the City of San Diego but was taken over by the federal government in 2006 through an eminent domain action by Congress.
In a three-page statement explaining the court's decision not to take up the cases now, Justice Samuel Alito noted that a final decision had not yet been issued in the lower courts in California.
In its most recent ruling, the Ninth US Circuit Court of Appeals remanded the cases to a federal judge to determine whether there might be a remedy that would resolve the constitutional issue short of removing the cross.
"The court of appeals emphasized that its decision did not mean that the memorial could not be modified to pass constitutional muster [or] that no cross can be part of [the memorial]," Justice Alito wrote.
"Because no final judgment has been rendered and it remains unclear precisely what action the federal government will be required to take," Alito said, "I agree with the [Supreme Court's] decision to deny the petitions [to hear the case]."
He noted that the denial was not a ruling on the underlying merits of the cases and that "the federal government is free to raise the same issue in a later petition following entry of a final judgment."
---