Supreme Court bars mandatory life sentences for juveniles
Supreme Court ruling aims to give judges and juries an opportunity to consider 'mitigating circumstances' before sentencing a juvenile offender to life in prison, without possibility of parole.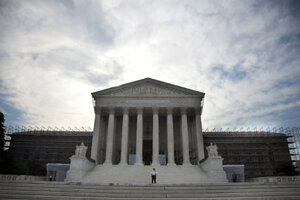 Evan Vucci/AP
In a major decision issued Monday, the US Supreme Court struck down mandatory sentencing schemes requiring juvenile defendants to serve life in prison without the possibility of parole.
Voting 5 to 4, the high court declared that automatically sentencing someone so young to a lifetime behind bars – with no future prospect than to die in prison – is cruel and unusual punishment in violation of the Constitution's Eighth Amendment.
"The Eighth Amendment forbids a sentencing scheme that mandates life in prison without the possibility of parole for juvenile offenders," Justice Elena Kagan wrote in the majority decision. "A judge or jury must have the opportunity to consider mitigating circumstances before imposing the harshest possible penalty for juveniles," she said.
Justice Kagan said mandatory sentencing provisions eliminate the ability of a sentencing court to take into consideration all mitigating circumstances about a juvenile's life and involvement in the crime before concluding that life without parole is appropriate punishment for a young offender.
"Although we do not foreclose a sentencer's ability to make that judgment in homicide cases, we require it to take into account how children are different, and how those differences counsel against irrevocably sentencing them to a lifetime in prison," she wrote.
---