Not all states with immigration laws will backpedal after Supreme Court ruling
States with tough immigration laws – like the one the Supreme Court mostly invalidated from Arizona – are assessing adjustments they may need to make. Not all foresee changes.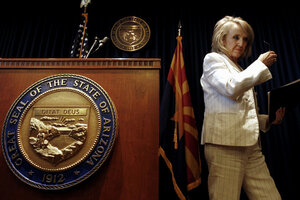 Ross D. Franklin/AP
The US Supreme Court's immigration ruling – telling states, in effect, to butt out of immigration control, which is a federal responsibility – reverberated across the country on Monday and struck, in particular, a handful of states that had followed Arizona in approving tough laws targeting illegal immigrants.
In Alabama, Georgia, Utah, Indiana, Tennessee, and, of course, Arizona, lawmakers and legal analysts are holding up their state laws to the court decision to see what adjustments might need to be made now that the Supreme Court has spoken.
Alabama
The US 11th Circuit Court of Appeals will now find it more difficult to uphold key parts of Alabama's law, which many see as even tougher than the Arizona statute that the high court addressed this week.
The Supreme Court struck down any hint of states setting up their own immigration bureaucracies – such as penalties Arizona's law had imposed upon people who were in the state illegally. That could affect aspects of Alabama's law, including requirements that public schools keep count of undocumented students. Alabama Attorney General Luther Strange acknowledged that Monday's ruling will affect the state's law, "along with those of several other states."
---