Did Penn State coach Joe Paterno help cover up Jerry Sandusky sex abuse?
CNN reports an apparent effort to go slowly on a report that Sandusky had sexually assaulted a boy in a locker room shower. Coach Joe Paterno had discussed the incident with other officials.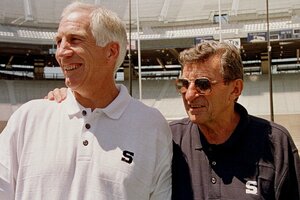 Paul Vathis/AP
Former Penn State assistant football coach Jerry Sandusky has been convicted of sex abuse involving 10 boys over 15 years, but the story is far from over.
There will be further investigations, the trial of two former Penn State officials, civil lawsuits against the university by victims of Sandusky's abuse, and a likely appeal of his conviction.
Now, legendary Penn State head football coach Joe Paterno has become a larger part of the story as well.
IN PICTURES: Fallout from the Penn State scandal
Citing email exchanges between senior Penn State officials in 2001, CNN reports an apparent effort to go slowly on what a graduate assistant said he had seen: Sandusky sexually assaulting a boy in the team locker room shower.
The emails between former university president Graham Spanier, athletic director Tim Curley, and vice president Gary Schultz, at first suggested contacting the state Department of Welfare, which investigates suspected child abuse.
But a day later, the officials agreed that a more "humane and a reasonable way to proceed" would be to approach Sandusky (referred to not by name, but as "the person") with the allegation but not involve state authorities.
"The only downside for us is if message isn't 'heard' and acted upon and we then become vulnerable for not having reported it, but that can be assessed down the road," one email said, according to CNN.
---