What will Twitter do in the case of the subpoenaed tweets?
Prosecutors want records of tweets from Malcolm Harris, who was at a disruptive Occupy protest, and a New York judge says Twitter must turn them over. The case may help define the line between privacy rights and prosecutorial authority in the online realm.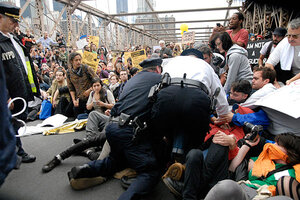 Stephanie Keith/AP/File
Prolific tweeter Malcom Harris was close enough to the front of the crowd that surged onto the Brooklyn Bridge during Occupy Wall Street's march on Oct. 1, 2011, that he was one of the more than 700 people whom the police encircled, arrested, and charged with disorderly conduct.
Reports about what happened that day are conflicting: Some say organizers deliberately led protesters onto the roadway to block traffic, while others say police officers led marchers to believe they could walk the vehicular route. The Manhattan District Attorney's office claims that Mr. Harris's Twitter messages from that day – now deleted from an account he no longer operates – will reveal the truth, so he has issued a subpoena to force the social media giant to show prosecutors what Mr. Harris had written.
On Monday, a state judge in New York ruled that Twitter must comply with the D.A.'s subpoena. Moreover, Harris's tweets over a longer period of time must also be turned over as part of New York's investigation into any criminal activity that took place in the march across the Brooklyn Bridge, he decided.
---