George Zimmerman, the Constitution, and the shifting politics of self-defense
George Zimmerman's lawyer says at the heart of the Trayvon Martin murder case lies a constitutional prerogative: The right of Americans to carry guns and use them in self-defense. Is he right?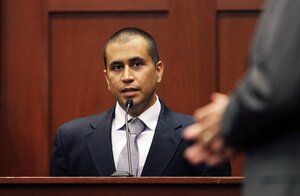 Gary W. Green/Reuters
Within 24 hours of Seminole County, Fla., Judge Kenneth Lester issuing a stern order allowing George Zimmerman, the defendant in the Trayvon Martin murder case, to post a $1 million bond, the volunteer neighborhood watchman received over $25,000 in donations, bringing his defense war chest to nearly a quarter of a million dollars.
Mark O'Mara, Mr. Zimmerman's attorney, wrote that donors have been lining up for several reasons – that he's been unfairly treated by the media, that he's been falsely labeled a racist, and that donors, if they were in a similar position, would likely have done the same thing.
But in making an appeal for more funds, Mr. O'Mara also suggested on Friday that many Americans have given because they feel "this case is an affront to their constitutional rights," namely the 2nd Amendment right to bear arms.
To be sure, many commentators say the case has mainly to do with Zimmerman violating Martin's equal protection rights by profiling him and then illegally depriving the boy of his basic constitutional right of life.
But judging by the speed and size of donations to the defense fund, it's clear the case continues to provoke a separate debate about America's shifting stance on gun rights and the constitutional case for self-defense.
---