Judge saves Mississippi's only abortion clinic ... for now
A federal judge allowed a new Mississippi law targeting the state's only abortion clinic, but said the clinic can stay open so as not to cause 'irreparable harm' to women seeking the procedure.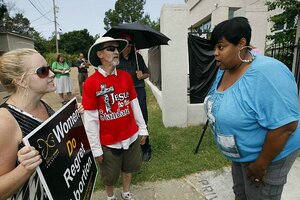 Rogelio V. Solis/AP
A federal judge on Friday allowed Mississippi's only remaining abortion clinic to stay open by giving it time to adjust to a new state law that beefs up professional requirements for the Jackson facility's staff.
But so far, the clinic has had little luck in abiding by the law, which requires it to get "admission privileges" from local hospitals. One hospital recently told the clinic "not to bother."
The ruling by Judge Dan Jordan on Friday was seen as a partial victory both for the Jackson Women's Health Organization, which provides the bulk of the state's annual 2,000 abortion, as well as state anti-abortion activists and sympathizers, including Gov. Phil Bryant, who said he hoped the law would make the state "abortion-free."
Mississippi 'personhood' measure: why support waned as Election Day neared
While the 1972 Roe v. Wade decision made abortion legal in the US, the situation in Mississippi is testing the limits of the 1992 Planned Parenthood v. Casey ruling, which said states can regulate abortion clinics as long as those laws don't essentially harm women's underlying right to choose an abortion for an unwanted pregnancy.
---