Penn State takes first steps to recover after Sandusky scandal
Penn State trustees, taking 'full responsibility' for the Jerry Sandusky child sex abuse scandal, announced initial steps to recover the university's tarnished reputation. Some say much more will have to be done, especially changing a campus culture in which sports coaches are idolized.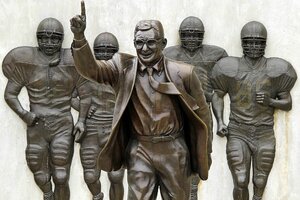 Gene J. Puskar/AP
It's likely to take years for Penn State to fully recover from the Jerry Sandusky child sex abuse scandal that has blotted the reputation of the university and its most senior officials, including legendary head football coach Joe Paterno.
But in its first meeting since the blistering investigation by former FBI director Louis Freeh, the university's board of trustees has taken initial steps in that direction.
The board – which itself was criticized in the Freeh report for failing to create an environment in which much of the abuse might have been prevented – has begun by accepting what board chair Karen Peetz calls "full responsibility" for its failures.
Notably, the federal Clery Act of 1990 requiring the compilation and reporting of crime statistics, including sexual offenses, had never become policy at Penn State. Under the Clery Act – named for a young woman sexually assaulted and murdered in a Lehigh University dorm room in 1986 – Penn State officials were obliged to report Mr. Sandusky's known activities to law enforcement officials.
---