Afghanistan detainees get their day in US court, again. Why they're back.
The four are all being held indefinitely and without charge in Afghanistan after being captured in other countries. They are seeking the right to challenge their detention.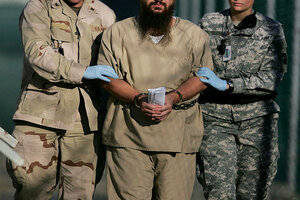 AP Photo/Brennan Linsley, File
One was a Yemeni businessman who was abducted while on a trip to Thailand. Another was a 14-year-old picked up in Pakistan and taken to Afghanistan four years ago. A third was at home with his wife and child in Pakistan when he was seized.
What they and one other man all have in common is they ended up in a US military prison in Afghanistan without being charged and with no way to challenge their indefinite detention.
On Monday, their lawyers went back to a federal court in Washington in their latest effort to convince a judge that their detention is a violation of a fundamental provision of the US Constitution.
US District Judge John Bates ruled three years ago that detainees can indeed challenge their detention, but was subsequently overruled by a US appeals court. Now he is examining whether he has jurisdiction to hear the renewed claims.
Lawyers for the detainees urged Judge Bates on Monday to allow their clients a new opportunity to prove that their indefinite detention at a US-built prison camp in Afghanistan violates the protections of habeas corpus.
The legal protection of habeas corpus is guaranteed in the US Constitution and by federal statute. It entitles prisoners within US borders to challenge their detention by forcing the government to justify the legality of the detention to a neutral judge.
Terror suspects at the detention camp at Guantánamo Bay, Cuba, won a decision at the US Supreme Court that they were entitled to challenge the legality of their open-ended detention in federal court in Washington. The court ruled that even though Guantánamo was outside the US, the government exercised de facto sovereignty over Guantánamo.
---