Patty Murray: Democrats will go over 'fiscal cliff' unless GOP relents
No. 4 Senate Democrat says that Republicans must agree to let tax cuts expire for the richest Americans or face a tax hike for all – a move that lifts a page from the GOP playbook.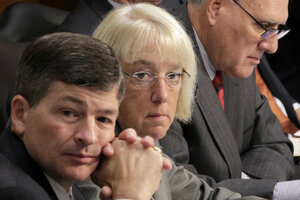 J. Scott Applewhite/AP/File
With the US economy speeding toward a year-end fiscal cliff of some $560 billion in higher taxes and draconian spending cuts, Sen. Patty Murray (D) of Washington bluntly laid out her party's position on how Congress should handle the nation's coming fiscal travails: Go big or go over the ledge.
"Millions of jobs could be lost through the automatic cuts, programs families depend on would be slashed irresponsibly across the board, and middle-class tax cuts would expire. And once again, if Republicans won't work with us on a balanced approach, we are not going to get a deal," said Senator Murray, the Senate's No. 4 Democrat, in a speech at the Brookings Institution on Monday.
"[I]f we can't get a good deal – a balanced deal that calls on the wealthy to pay their fair share – then I will absolutely continue this debate into 2013, rather than lock in a long-term deal this year that throws middle-class families under the bus," she said.
The chair of the party committee charged with electing Democrats to the Senate laid out the broadest, most full-throated explanation of the party's views on negotiating the fiscal cliff while outlining Democrat's strategy for attacking Republicans at the polls in November.
---