George Zimmerman: Is the prosecution damaging his credibility?
Before the trial of George Zimmerman begins in the killing of Trayvon Martin, the prosecution has made public material that may not be admissible in court but raises questions about his character and credibility.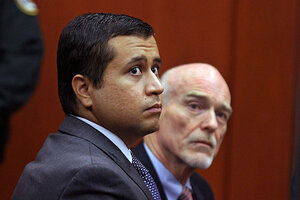 Joe Burbank/Orlando Sentinel/AP/File
With the trial of neighborhood watchman George Zimmerman pending in the killing of Trayvon Martin, information released by the prosecution is creating questions about Mr. Zimmerman's character and credibility, which legal experts say could be damaging in the courtroom.
Zimmerman is pleading not guilty to second-degree murder charges in the killing of Mr. Martin, a Florida teenager. The case has attracted international attention both for possible racial motives in the case and questions about Zimmerman, who remains an elusive and, according to the presiding judge, deceptive figure.
Tapes made public Monday by prosecutors involved material whose admissibility as evidence is far from assured, including allegations that for years, as a minor, he sexually groped a girl two years his junior whom he saw at family gatherings, as well as evidence that he lied to the judge about his family's finances.
Zimmerman's attorneys tried and failed to block the release of the tapes.
The tapes suggest Zimmerman knew of fundraising efforts on his behalf before a bond hearing in April at which his wife testified that the couple was destitute in an effort to get a reduced bond. A $150,000 bond was granted.
After prosecutors revealed that Zimmerman's family had transferred about $135,000 in online donations into their personal bank account five days prior to the hearing, Seminole County Circuit Judge Kenneth Lester sent Zimmerman back to jail and last week charged Shellie Zimmerman, his wife, with perjury.
---