George Zimmerman's Fox News interview: Risky step for Trayvon Martin's killer?
George Zimmerman, charged with killing Florida teen Trayvon Martin, agreed to an interview with Fox News this week. Legal experts say submitting to the media spotlight this way is a tricky step for criminal defendants and their attorneys. What's said can be used against them.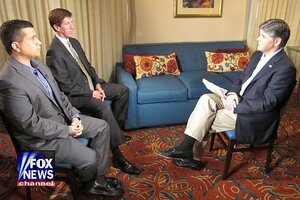 Fox News Channel/AP
In his first media interview since his arrest for killing a Florida teenager, former community watch volunteer George Zimmerman apologized for the circumstances, but did not show remorse for his actions.
Zimmerman is free on a $1 million bond following second degree murder charges involving the killing of Trayvon Martin on Feb. 26 during a confrontation in a gated community in Sanford, a city in central Florida. Zimmerman's trial is pending and he says he is not guilty. In an April court appearance, he expressed sympathy for Mr. Martin's parents, which he repeated Wednesday in a Fox News interview with host Sean Hannity.
"I would tell them again I'm sorry … I'm sorry that they buried their child. I can't imagine how it must feel like. And I pray for them daily," Zimmerman said. He added he was "certainly open" to a conversation with them in the future.
RECOMMENDED: How 5 young black men see the Trayvon Martin case
Some legal analysts say that while it is certainly risky to put a defendant in a high-profile case in the media spotlight, the televised interview's purpose was to present Mr. Zimmerman as a reasonable person and lawful gun owner who found himself trapped in an unpredictable situation, which justified the killing.
---