Colorado shooting: Police look for clues after dark night
Batman moviegoers, at first, think that shooting is part of the spectacle. Paris cancels opening of 'The Dark Knight Rises,' as New York tightens security at film's opening to preempt copycats.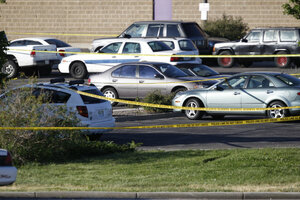 David Zalubowski/AP
Law enforcement authorities in Colorado have begun to piece together details of a movie theater shooting that killed 12 people and wounded 38 others.
So far, they say, the episode involved a single shooter not connected to foreign terrorism. Colorado has many military bases, and military authorities were quick to report that the suspect had no prior Army experience.
What authorities know so far is that a 24-year-old man identified as James Holmes entered the Century Aurora 16 theater in the Denver suburb of Aurora during a midnight premier showing of "The Dark Knight Rises," the latest Batman movie.
Witnesses said the shooter, dressed in black, entered by an exit, tossed some kind of gas canister, then began shooting.
"I think we were 15 minutes in, and there was a chase scene where there was gunfire on screen," Quentin Caldwell told CNN. "And right then out of nowhere on the right side of us we hear a very distinct 'pop, pop, pop, pop.' "
Following the rampage, police apprehended the suspect – who did not resist arrest – outside the theater. They retrieved a rifle, a shotgun, and two pistols, and they were searching the suspect's residence for the presence of explosives.
---