Judgment time for 'America's Toughest Sheriff' Joe Arpaio
Arizona sheriff Joe Arpaio – known for his controversial jail tactics and tough stand on immigration – faces a class-action lawsuit and US Justice Department probe of alleged racial profiling targeting Latinos. He's also up for reelection.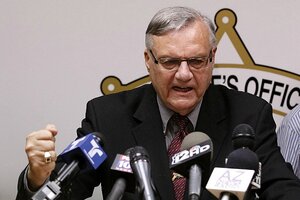 Ross D. Franklin/AP
Judgment time is approaching for Joe Arpaio, the man who calls himself "America's Toughest Sheriff."
The controversial law enforcement chief of Maricopa County, Ariz., soon will hear a federal judge's ruling in a class-action lawsuit charging a pattern of racial profiling in the targeting and detention of Latino drivers and passengers during traffic stops. Closing arguments were heard this week.
Meanwhile, the US Justice Department is proceeding with its broader discrimination case against Sheriff Arpaio, the department he oversees, and Maricopa County itself.
"Latinos in Maricopa County are frequently stopped, detained, and arrested on the basis of race, color, or national origin, and Latino prisoners with limited English language skills are denied important constitutional protections," the Justice Department charges. "As a result of the pattern or practice of unlawful discrimination, Latinos in Maricopa County are systematically denied their constitutional rights; the relationship between MCSO [the Maricopa County Sheriff's Office] and key segments of the community is eroded, making it more difficult for MCSO to fight crime; and the safety of prisoners and officers in the jails is jeopardized."
---