Arizona illegal immigration law gets final go-ahead from court
Arizona's illegal immigration law directs police to check the status of individuals during a legal stop or detention. It's the latest chapter in the battle between the state and the Obama administration over which level of government has authority regarding immigration policy.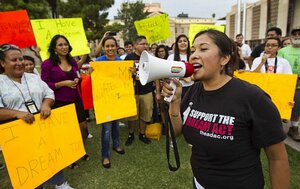 Tom Tingle/The Arizona Republic/AP
Law enforcement authorities in Arizona are now required to check the immigration status of individuals they suspect are in the country illegally According to a federal judge's ruling Wednesday, the provision in the state's immigration law is constitutional, leaving open the possibility of a legal challenge by potential victims.
The ruling by US District Judge Susan Bolton is the latest chapter in the two-year legal battle between the state's highest officials and the Obama administration over which level of government has ultimate authority regarding immigration policy. The Wednesday ruling affirms a decision in June by the US Supreme Court regarding the provision, which critics have called "show me your papers."
In a statement Wednesday, Arizona Governor Jan Brewer (R) lauded Judge Bolton's ruling, saying the provision, which is part of a broader state law, "makes a clear statement that [Arizona] will not tolerate sanctuary city policies, and will now have thousands of additional officers to collaborate with the federal government as state and local law enforcement do what they always have – enforce the law."
---