In looming federalism fight, three states say feds can't 'unmarry' gay couples
Vermont, New York, and Connecticut argue in a US court of appeals brief that it's states, not the federal government, that license official relationships, including gay marriages.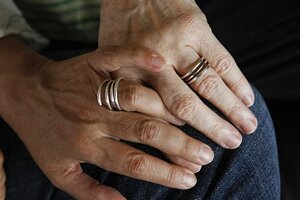 Fay Abuelgasim/AP
Three states where members of the clergy and justices of the peace today marry gay couples argued on Friday that it's a violation of states' rights for the federal government to then "unmarry" those people under the 1996 Defense of Marriage Act (DOMA).
In an amicus brief to a New York case involving a lesbian widow, Vermont, Connecticut, and New York argue that the federal government had no right, despite the federal designation of marriage as being between a man and a woman, to demand $350,000 in estate taxes when Edie Windsor's partner died. That would not have happened under a marital tax deduction that lets other married couples pass their assets to their spouse without penalty.
The three states who filed amicus briefs argue that states regulate marriage and family relationships and that Congress doesn't have constitutional authority to interfere with that license at any level.
Obama vs. Romney 101: 4 ways they differ on gay issues
Several federal and state judges have struck down parts of DOMA, but it was only earlier this year that a federal appeals court in Boston, called it discriminatory regarding partner benefits, saying the law "fails the test" when looking at its "disparate impact on minority interests and federalism concerns."
---