For rebuilding Detroit, Kwame Kilpatrick trial brings back bad memories
Kwame Kilpatrick, once lauded as the 'hip-hop mayor' of Detroit, is facing federal corruption charges. The trial, which started Friday, will loom large over a city trying to move beyond its past.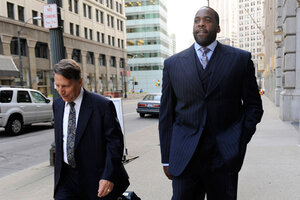 David Coates/Detroit News/AP
As Detroit struggles to fix its ongoing financial woes, blighted neighborhoods, and shrinking population, a divisive specter from its past has emerged: Kwame Kilpatrick.
Mr. Kilpatrick was Detroit's mayor for six years before heading to prison in 2008 on a perjury charge. He is back as the principal target of a federal trial that charges him with 38 counts of racketeering conspiracy, extortion, bribery, fraud, false tax returns, and tax evasion.
Federal prosecutors essentially accuse Kilpatrick and three others of treating city hall like the central unit of an organized crime family: shaking down city contractors and nonprofit donors for bribes and wielding influence to reap millions of dollars in kickbacks. The charges also cover Kilpatrick's time as a state representative from 1996 through 2001.
The trial "is certainly not helpful to the city" as it tries to rebuild its image, and the proceedings could make major headlines until January, says Patrick Henning, a law professor at Wayne State University in Detroit. While a conviction would help the city "put Kilpatrick behind it," he says, a hung jury and a second trial "could occupy the city for another year or even two."
An acquittal could even give Kilpatrick a second life in local politics.
"He's a very likable person, that's why he remains such a polarizing figure – a lot of people still like him," Professor Henning says. "If he could run again [for mayor], I think he could win, largely because turnout is so low, someone with the devoted following that he has would still follow him."
---