Supreme Court case on use of race in admissions could be landmark
The University of Texas at Austin admits some students based on a process that includes race as one factor – even though the school is already racially diverse. The Supreme Court will consider whether that process is justified.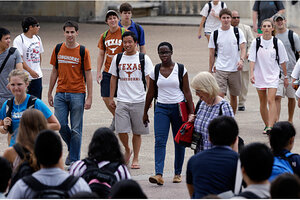 Eric Gay/AP
The US Supreme Court on Wednesday is set to take up a potential landmark case examining whether a public university may use race as a factor to select new students, even after the university has achieved significant student diversity using race-neutral admissions methods.
The case, Fisher v. University of Texas, embroils the high court in a contentious debate that divides the country and the Supreme Court itself.
The case has prompted the filing of 73 friend-of-the-court briefs from military leaders, major US businesses, 14 states, a group of senators, civil rights groups, education organizations, and a collection of basketball coaches – all urging the justices to uphold the use of race in college admissions.
On the other side, 17 friend-of-the-court briefs were filed by an array of conservative public interest organizations and groups of scholars.
At issue is when it is appropriate to use ethnicity or skin color to boost enrollment by minority students at a highly selective university.
The University of Texas (UT) at Austin uses a race-neutral mechanism to select 75 percent of its entering freshman class. The process yields class-wide minority enrollment of roughly 20 percent, making it among the most diverse of the nation's elite universities.
Nonetheless, admissions officials also rely on a second selection process to pick the remaining 25 percent of students. That process includes race as a selection criterion among several other factors.
The question in the case is whether under those circumstances the University of Texas' use of race is justified.
The race-conscious plan is being challenged by a white student, Abigail Fisher, who claims she was denied admission to UT so that African-American and Latino students, who she says were less qualified, could be admitted.
---