Mother gets 99 years for beating, gluing daughter: Has the US had it with bad parents?
Elizabeth Escalona, a 23-year-old mother of five, was sentenced to 99 years in prison after severely beating her daughter and gluing the girl's hands to a wall. The sentence is one sign that society – and the courts – are taking child abuse more seriously.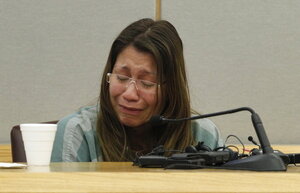 Tony Gutierrez/AP
A 99-year prison sentence for a 23-year-old Dallas mother who admitted she had acted like a "monster" when gluing her daughter's hands and beating her into a coma last year suggests that society and the courts are taking a harsher view of neglectful, abusive, and violent parents, experts say.
The mom, Elizabeth Escalona, pleaded this week with the court for counseling and rehabilitation so she could one day have her five children returned to her. State Judge Larry Mitchell acknowledged evidence that Ms. Escalona had herself been abused as a child, but said that didn't excuse her from beating her 2-year-old until she nearly died.
"For this you must be punished," the judge said on Friday. The sentence for the felony injury to a child conviction will be appealed.
Spanking or not spanking: a tale of parenting peer pressure
The Dallas "super-gluing" abuse case joins a litany of recent media stories involving parents going to extreme lengths to punish children.
Those cases include the "good mom" in Alaska who was let off on probation in August after being arrested and tried for using hot sauce to punish an adopted son for lying. Last week, the parents of an emaciated 18-year-old Georgia boy were arrested after it became apparent he had spent so much of his life locked in a room that his two sisters didn't know the color of his hair.
---