9/11 cases: Three of five Guantánamo detainees skip pretrial hearing
A military commission judge said Monday the defendants don't have to attend the proceedings, and on Tuesday Khalid Sheikh Mohammed and two other Guantánamo detainees opted out. It's a day-by-day decision.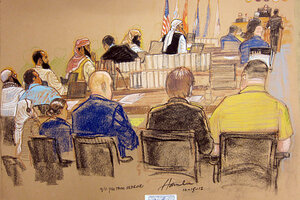 Janet Hamlin/AP
Alleged 9/11 mastermind Khalid Sheikh Mohammed and two of his codefendants decided on Tuesday to skip a day-long hearing at their terrorism conspiracy trial at Guantánamo.
The action came a day after a military judge ruled that the defendants would not be required to attend the military commission proceedings.
In addition to Mr. Mohammed, codefendants Ali Abdul Aziz Ali and Mustafa Hawsawi decided not to attend Tuesday's session.
There was no indication in court why the three decided not to attend, although Mr. Ali's lawyer said on Monday that Ali's father had died recently in Kuwait and that his client was in mourning and did not wish to attend.
The judge, US Army Col. James Pohl, asked the government for an account of how each of the detainees communicated his decision not to attend.
A Guantánamo security official, whose name and position were blocked from public release, said she had personally followed a procedure established by Judge Pohl on Monday. Each of the three defendants signed a formal waiver of their right to be present in court.
The unnamed official said she knelt down in the hallway outside Mohammed's cell to be able to speak to him face to face through a slot in the door. She said Mohammed said he wished to attend court. But she added that he changed his mind after being transported to the holding cell near the courtroom.
The two other detainees remained in their cells at the detention camp.
The judge found that all three of the defendants had voluntarily waived their right to be present. His formal finding was entered into the court record, in part to insulate the trial and any potential conviction from an appeal claiming the defendants were improperly excluded from their trial.
---