Did US go too far in its secret surveillance of citizens?
Critics say the Bush-era law designed to collect foreign intelligence intrudes on the constitutionally protected privacy and free speech rights of US citizens. The US Supreme Court hears the case Monday.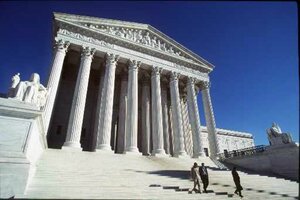 Melanie Stetson Freeman/The Christian Science Monitor
The US Supreme Court on Monday is set to hear oral argument in a case examining whether Americans have legal standing to file a lawsuit challenging the constitutionality of a US surveillance program designed to vacuum up millions of international telephone and email messages to mine for critical intelligence.
The secret program, begun under the Bush administration, uses bottlenecks in the telecommunications system to collect telephone conversations and emails that might help the government collect "foreign intelligence."
The problem, according to privacy experts, is that the massive electronic collection effort is not limited by individualized warrants issued and overseen by federal judges. The new surveillance program is more general. It can sweep up the international phone calls and emails of Americans, particularly those who communicate with potential targets of US intelligence who are overseas.
How much do you know about the US Constitution? A quiz.
It is that prospect that led a group of lawyers, human rights advocates, and journalists to file a lawsuit in 2008, asking a federal judge to declare the surveillance program unconstitutional.
They argued that their work requires them to engage in sensitive phone conversations and emails with colleagues, clients, journalistic sources, witnesses, experts, and victims of human rights abuses overseas.
They say they have a reasonable belief that the US program will record, retain, and facilitate analysis of their private, privileged communications. In some instances, they say, they decided to forego the use of the phone and email, and instead traveled overseas – at considerable expense – to undertake sensitive conversations in person to insure they would remain privileged and private.
---