Voting Rights Act: Why many Southern states are glad of Supreme Court case
After minorities played a big role in reelecting President Obama, the US Supreme Court says it will take up the 1965 Voting Rights Act and the issue of federal oversight over voting in mostly Southern jurisdictions.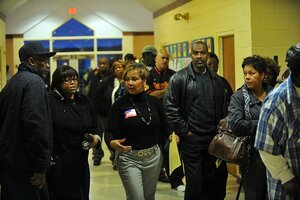 Kent D. Johnson/Atlanta Journal-Constitution/AP
In deciding Friday to take up a case on a landmark law from the civil rights era, the US Supreme Court may address a question that many Southerners have been asking for years: Did Congress misread racial reforms in the South by reauthorizing the Voting Rights Act without tweaking it?
Many legal experts believe that's the essential point before the high court in a case out of Shelby County, Alabama, in which local officials, backed by a bevy of Southern states, will argue that Congress went too far when it reauthorized the Voting Rights Act (VRA) in 2006, and that federal oversight of polling stations and election rules primarily in the former Confederacy is too broad and thus, in some cases, itself discriminatory.
Those who want to put voting affairs back into the exclusive hands of state and local election officials cite President Obama's reelection on Tuesday as a reason to rethink the need for federal oversight of jurisdictions that, 40 or 50 years ago, had engaged in voting discrimination.
Of course, Mr. Obama lost in most of the so-called Section 5 districts and states. It's in the South, moreover, that the US Department of Justice cited the Voting Rights Act in challenging new voter ID laws in VRA jurisdictions such as Texas and South Carolina that Attorney General Eric Holder likened to Jim Crow-era "poll taxes."
Still, election postmortems from both sides of the political spectrum have focused on the strength of the minority vote in 2012: Blacks and Hispanics, especially, were key constituencies contributing to Obama's decisive reelection.
"The America that elected and reelected Barack Obama … is far different than when the Voting Rights Act was first enacted in 1965," Edward Blum of the Project on Fair Representation, the group that brought the Shelby County case, told the Washington Post. "Congress unwisely reauthorized a bill that is stuck in a Jim Crow-era time warp."
---