Saudi student in US gets life in prison for bombmaking scheme
Khalid Aldawsari, who was convicted in June, came under suspicion when he ordered chemicals. Prosecutors said the key to the case was the role played by citizens who contacted officials.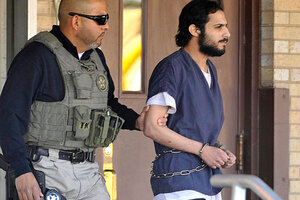 Michael Schumacher/Amarillo Globe-News/AP
A Muslim student who had spent four years in the US on an academic scholarship from Saudi Arabia was sentenced to life in prison on Tuesday for attempting to assemble an improvised explosive device.
The bomb, prosecutors said, was meant as a means to wage jihad against the US government and its citizens on American soil. According to a journal seized by federal agents, he sought the scholarship to facilitate his travel to the United States and help him fund the attacks.
The student, Khalid Aldawsari, was convicted in June after a federal trial in Amarillo, Texas. Until his arrest in February 2011, Mr. Aldawsari was a business student at South Plains College, near Lubbock, Texas. He had also studied chemical engineering at Texas Tech.
"I excelled in my studies in high school in order to take advantage of an opportunity for a scholarship to America," Aldawsari wrote in his journal.
He said he applied for a particular scholarship because its recipients were sent immediately to the US and were given the largest amount of financial assistance, "which will help tremendously in providing me with the support I need for Jihad, God willing."
The journal continues: "And now, after mastering the English language, learning how to build explosives, and continuous planning to target the infidel Americans, it is time for Jihad."
---