BP to pay $4.5 billion in fines for Gulf oil spill. Is legal saga over?
A deal on federal criminal charges helps bring legal action over the Gulf oil spill nearer a conclusion. But many more claims remain – totaling perhaps tens of billions of dollars.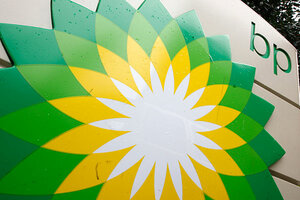 Charles Dharapak/AP/File
British oil giant BP is agreeing to pay $4.5 billion in fines related to its role in the 2010 spill that killed 11 people and released five million barrels of oil into the Gulf of Mexico. The corporate criminal penalty is the largest of its kind in US history.
The settlement includes 14 criminal counts that range from misconduct and negligence to obstruction of Congress. It allows the company to put a significant legal battle behind it, though at no small cost. Moreover, other legal claims remain, including federal civil claims for damages under the Clean Water Act and private civil claims.
Though criminal settlements are hard to judge, given that much of the information is not public, the fines appear "appropriate," says Richard Frank, director of the California Environmental Law & Policy Center at the University of California at Davis.
"It would appear the Justice Department was appropriately aggressive in pursuing and negotiating this," he says. "One can always argue for greater fines, but these are pretty big numbers, and the fact that there's a felony conviction on record against this corporation is significant."
---