Can people record police officers? Illinois ban gets no help at Supreme Court.
Supreme Court justices refused to hear an appeal on behalf of Illinois' tough eavesdropping law. A federal appeals court had ruled that the law 'likely violates' free speech guarantees.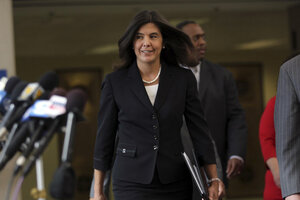 Chicago Tribune/Abel Uribe/Reuters
The US Supreme Court refused Monday to hear an appeal on behalf of an Illinois eavesdropping law that prohibits recording a law enforcement officer, leaving in place a federal appeals court ruling that barred enforcement of the law on the grounds it "likely violates" free speech guarantees.
The eavesdropping law, which makes recording law enforcement officers a first-class felony punishable by up to 15 years in prison, is among the most severe in the nation regarding surreptitious audio or video recording of public or private conversations.
Illinois is one of just 10 states, plus the District of Columbia, where all parties must give their consent to a recording, according to data provided by The National Conference of State Legislatures.
The Supreme Court ruling is a major setback for Cook County State Attorney Anita Alvarez, who has waged a rigorous campaign against those who have violated the Illinois law.
Ms. Alavarez had appealed the May ruling by the US Court of Appeals for the Seventh Circuit, which barred her office from prosecuting staffers of the Illinois chapter of the American Civil Liberties Union for monitoring police officers' public actions.
---