Supreme Court: Both sides in gay marriage debate voice optimism
The Supreme Court's decision to take up appeals over DOMA and California's Prop. 8 ban on gay marriage elicited positive reactions from advocates on both sides of the contentious issue.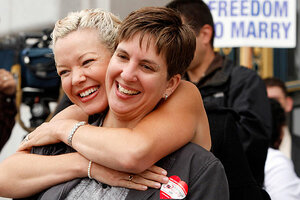 Ben Margot/AP
Both sides of the contentious debate over same-sex marriage in America are expressing optimism over the news Friday that the US Supreme Court has agreed to take up two potential landmark gay rights cases.
The high court announced it would hear arguments in a case testing the constitutionality of California's Prop. 8 ban on same-sex marriage.
It also said it would hear the case of an elderly New York City woman who claims the federal Defense of Marriage Act (DOMA) violates her right to have her same-sex marriage recognized and respected by the federal government on the same terms as marriages of opposite-sex couples.
DOMA restricts receipt of federal spousal benefits to marriages comprised of one man and one woman. Same-sex spouses who are legally married in their home states are nonetheless barred from receiving federal benefits under the 1996 law.
The high court action comes a month after voters in three states – Maryland, Washington, and Maine – agreed to join six other states and the District of Columbia in embracing same-sex marriages.
---