Alleging US torture, terror convict Padilla appeals to Americas' rights group
Jose Padilla's mother is alleging to the Inter-American Commission on Human Rights that her son, currently in solitary confinement in a Colorado prison, was tortured during his 4 years in a naval brig.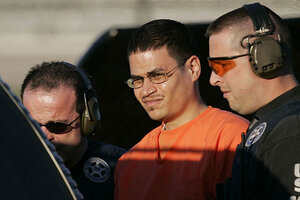 J. Pat Carter/AP/File
Lawyers working on behalf of former military detainee and convicted terror conspirator Jose Padilla are asking an international human rights commission to investigate his detention without charge and alleged torture by the US government.
A 68-page petition filed on Tuesday with the Inter-American Commission on Human Rights charges that the US military subjected Mr. Padilla to a combination of harsh conditions of confinement and brutal interrogation techniques in an effort to extract intelligence information about Al Qaeda.
The petition was filed by Padilla's mother, Estela Lebron, on behalf of her and her son. Lawsuits raising the same allegations in US courts have been dismissed.
Padilla, a US citizen and Muslim convert, had lived overseas for a number of years, and government agents suspected he was a member of Al Qaeda sent to the US to detonate a radiological "dirty bomb."
When a lawyer challenged his initial detention by the FBI, Padilla was designated an enemy combatant by President Bush and transferred to a military prison for interrogation.
He later stood trial in Miami on charges of providing material support to Al Qaeda by volunteering to serve in the group. The trial included no mention of a dirty-bomb plot.
Padilla was convicted and is serving a 17-year prison term in solitary confinement at the maximum security prison in Florence, Colo.
---