9/11 trial: Any mention of torture is classified, military judge rules
The military judge in the 9/11 trial of Khalid Sheikh Mohammed and others granted a government request to make all mention of alleged torture in the court classified. The defense called the ruling 'shameful.'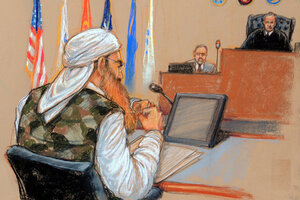 Janet Hamlin/AP
In a significant victory for government prosecutors, the military judge presiding over the trial of accused 911 mastermind Khalid Sheikh Mohammed has granted a government request to treat as classified any testimony or discussion about the alleged torture of Mr. Mohammed and others during CIA interrogations.
The judge, US Army Col. James Pohl, issued a broad protective order barring the disclosure of any information deemed by the government to be classified. The ruling was handed down Dec. 6 and was made public on the court's website on Wednesday.
Off limits at the military commission trial at the US Naval Base at Guantánamo Bay are any details surrounding the defendants' capture, detention, and alleged torture by the CIA. It includes "the enhanced interrogation techniques that were applied to an accused … including descriptions of the techniques as applied, the duration, frequency, sequencing, and limitations of those techniques."
The judge added that "without limitation, observations and experiences of an accused" would also be treated as classified information as they emerge from a defendant's mouth.
Defense lawyers had challenged the government's expansive assertion of authority to designate certain subjects as protected secrets in the case, saying it was improper for prosecutors to attempt to censor Mohammed and his four co-defendants from discussing their own personal observations of things they involuntarily endured during years of CIA detention and interrogations.
---