James Holmes hearing: At last, a chance for victims to testify
A weeklong hearing into the shooting attack in Aurora, Colo., began Monday, offering a potential window into the mindset of the suspect, James Holmes, and a chance for victims to unburden themselves of testimony.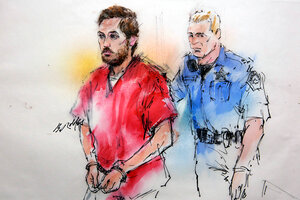 Bill Robles/AP
The preliminary hearing into the shooting attack in Aurora, Colo., last summer that left 12 people dead and 58 wounded opened Monday, offering a week-long window into details of the mass shooting at a midnight screening of "The Dark Knight Rises."
Most intriguingly, testimony at the hearing could shed light on the mindset of the alleged shooter, James Holmes, the former neuroscience graduate student whose hair was colored the same orange as that of the Batman movie villain the Joker.
Until now, most key documents in the case have been kept locked up, with very few released to the public, most heavily edited. Three days after the shooting on July 20 in the Denver suburb, District Judge William Sylvester ordered attorneys and investigators to refrain from speaking about the case publicly.
The purpose of the preliminary hearing in Centennial, Colo., is for Judge Sylvester to decide whether or not there is probable cause for a trial down the road. The hearing will feature testimony by witnesses who will be questioned by both the prosecution and defense. There will be no jury.
In the very first session Monday, a police officer, Jason Oviatt, described finding Mr. Holmes outside the theater in the moments after the shooting, saying the suspect was "very relaxed," without "normal emotional responses to anything," The New York Times reported.
---