Judges slap down Obama 'recess appointments.' Case headed to Supreme Court?
President Obama's appointments to the labor-relations board were unconstitutional because they bypassed the Senate, a court ruled Friday. Recess appointments have been a tactic of both parties.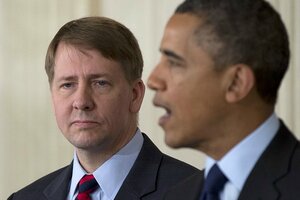 Carolyn Kaster/AP
The partisan battle over "recess appointments" took a new turn Friday when a federal appeals court ruled that President Obama violated the Constitution when he made such appointments to fill vacancies on the National Labor Relations Board (NLRB).
In essence, said the US Court of Appeals for the District of Columbia Circuit, the Senate remained formally in session during the Christmas and New Year's holidays early in 2012, when Mr. Obama appointed three members to the NLRB.
The Senate is supposed to vote on the president's appointments. But at times both Democrat and Republican presidents have tried to get around that requirement by making appointments during a Senate recess. In response, both parties have used a tactic in which the Senate is gaveled into and out of "pro forma" sessions every few days during a break. That's what was going on early last year.
"Either the Senate is in session, or it is in recess," Chief Judge David Sentelle wrote in the 46-page ruling. "If it has broken for three days within an ongoing session, it is not in 'the Recess' described in the Constitution."
"Allowing the president to define the scope of his own appointment power would eviscerate the Constitution's separation of powers," Chief Judge Sentelle wrote. Following Obama's line of thinking, the judge added, "the president could make appointments any time the Senate so much as broke for lunch."
The issue – and this particular case – are fraught with partisan politics.
---