Gulf oil spill: BP's record $4 billion criminal plea deal gets judge's OK
Under the plea agreement between BP and the US, the oil giant admits to 11 counts of felony manslaughter for the alleged negligence of its officials in 2010 Gulf oil spill.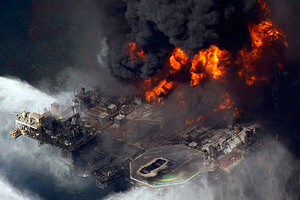 Gerald Herbert/AP/File
A federal judge in New Orleans on Tuesday accepted a plea agreement between the US government and BP that calls for the oil giant to admit responsibility for 11 dead oil workers and to pay a record $4 billion in criminal penalties for its role in the massive 2010 oil spill in the Gulf of Mexico.
The company admitted 11 counts of felony manslaughter for the alleged negligence of its officials on the Deepwater Horizon offshore oil rig.
BP also admitted violating the Clean Water Act and the Migratory Bird Treaty Act, and that it lied to Congress about the amount of oil flowing into the Gulf.
The $4 billion payment is the largest criminal penalty in US history. It comes in addition to $24.2 billion BP has already provided for cleanup and other claims in the Gulf region, according to court documents.
Resolution of the criminal case does not end BP's obligation to the Gulf coast. The company still faces additional liability of billions of dollars in other pending civil lawsuits, lawyers say.
The April 2010 oil spill continued for three months as the company attempted to find a way to stop the underwater gusher. Beaches from Texas to Florida were soiled and shut down. Particularly hard hit were the wetlands of Louisiana.
US District Judge Sarah Vance accepted the plea deal after hearing testimony from those who lost family members in the explosion and blow out.
Many opposed the deal.
---