Steven Seagal joins school guard posse: Do we need more action heroes in schools?
The idea clearly plays to the nation's enchantment with taking action to thwart evil, but it's a philosophy that many Americans worry could be dangerous in a school setting.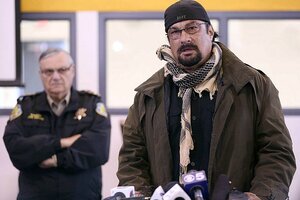 Darryl Webb/REUTERS
Forty gung-ho Americans are working out with actor-turned-Louisiana sheriff's deputy Steven Seagal in Forest Hills, Ariz., part of a broader effort to build a national "posse" of armed volunteer school guards to protect America's children in the wake of the Dec. 14 massacre at Sandy Hook Elementary School, in Newtown, Conn.
The decision by Mr. Seagal to join Maricopa County Sheriff Joe Arpaio's "volunteer posse" in response to Newtown could be a critical moment in bolstering the NRA's response to the shooting: to create a flexible training blueprint that school districts can utilize to tap primarily retired police or military personnel to protect schools.
But while Americans are clearly enchanted with gun-toting protagonists who take direct action to thwart evil, critics say the effort casts a cartoonish pall over a complex issue that can't be solved by action heroics.
---