The hunt for Christopher Dorner: Do reward offers help or hinder?
More than 1,000 tips have been received since the offer of a $1 million reward for information leading to the capture of former Los Angeles cop Christopher Dorner.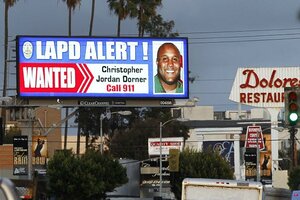 Reed Saxon/AP
With the hunt for Christopher Dorner, a former Los Angeles police officer suspected of three killings, in its second week, local officials have offered $1 million for information that could lead to his capture.
As of Tuesday morning, more than 1,000 tips have been received since the reward was announced Sunday afternoon, police officials said. Yet what is the likelihood that the offer of a reward will lead law enforcement officials to Mr. Dorner?
Offering such high rewards can help, but it tends to do more harm than good, says James Alan Fox, a professor of criminology at Northeastern University in Boston.
"The problem is that it tends to create work for investigators, trying to figure out good leads from long shots," Professor Fox says. "If someone has information that is valuable, they generally call it in even in the absence of a reward."
There has been no specific research to show the effectiveness of high-priced rewards leading to arrests, says Robert McCrie, professor of security management at John Jay College of Criminal Justice at the City University of New York.
"In effect, rewards like this get attention," Professor McCrie says. "Certainly there are some people in society for whom this will be tipping inducement to pick up the phone, but nobody who follows this field is saying that this will lead to [Dorner's] capture."
In these high-profile cases, McCrie says, law enforcement officials want to show aggrieved families and communities the extent they are willing to go in order to bring the wanted person into custody.
Los Angeles Police Chief Charlie Beck said the $1 million reward is the largest ever offered in the Los Angels area, and the main reason for the high reward is to prevent further violence.
---