Would harsher sentencing have saved Hadiya Pendleton?
A suspect in the shooting of 15-year old Hadiya Pendleton, who participated in Obama's inauguration, was on probation for a gun-related charge. Chicago officials want tougher sentencing.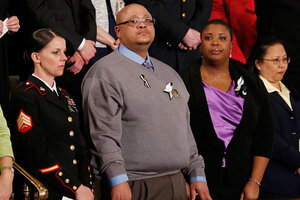 Jason Reed/Reuters
In his State of the Union address Tuesday, President Obama mentioned 15-year-old Hadiya Pendleton, the girl who participated at his inauguration festivities and was gunned down near his Chicago home three weeks ago, to push for a vote on gun-control legislation in Congress.
In Chicago, however, Hadiya's name is being connected with a different cause. Officials here are pointing to weak sentencing rules, saying alleged gunman Michael Ward, who pleaded guilty in 2012 to a weapons charge and was on probation, never should have been on the streets. They are pushing for the expansion of mandatory minimum sentencing.
"This incident didn't have to occur," said Chicago Police Department Superintendent Gerry McCarthy at a news conference Monday. "If mandatory minimums existed in the state of Illinois, Michael Ward would not have been in the state to complete this heinous act."
But legal experts say mandatory minimums are not necessarily designed to keep gun offenders off the streets, and that the perils of expanding them – especially to minors, as Mr. Ward was in 2012 – could outweigh the benefits.
---