Supreme Court to take up case that could overhaul campaign finance
The Supreme Court Tuesday agreed to hear a case that challenges limits on campaign spending, opening the door to a decision that could upend legal precedent on what individuals can contribute to candidates.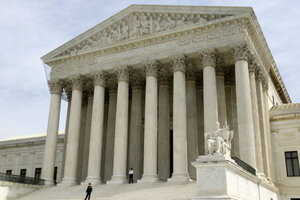 Charles Dharapak/AP/File
The US Supreme Court agreed on Tuesday to take up a case examining whether limits on the total amount an individual can contribute to political candidates and federal campaigns over a two-year period violate the free speech rights of would-be contributors.
The case, McCutcheon v. Federal Election Commission represents yet another challenge to the nation's campaign-finance laws in the wake of the Supreme Court's 2010 decision in Citizens United v. FEC.
In Citizens United, the court substantially narrowed the justification for imposing limits on political spending during campaign season.
The court eliminated the broader goal of creating a level playing field for all candidates, and instead said that government-imposed spending restrictions could only be justified to prevent actual quid pro quo corruption or the appearance of corruption.
That narrowing of the law opened doors for other potential legal challenges seeking to undermine the broader campaign-finance system. That's where the McCutcheon case comes in.
The lead plaintiff, Shaun McCutcheon of Alabama, is challenging a part of the campaign-finance law that restricts the total amount he can contribute during a two-year election cycle to $117,000.
The law restricts the amount he can give to each candidate ($2,500), to national party political committees ($30,800), state party political committees ($10,000), and other political committees ($5,000).
But that is only one level of regulation. Congress enacted a second level of campaign finance restrictions by imposing an overall limit ($117,000) on how much money can be spent by a contributor in each of the four restricted areas.
---