Surveillance law: US group can't challenge it, Supreme Court rules
A 2008 surveillance law allows the US government to detect and track the messages of would-be foreign terrorists. Critics say it is overly broad, but on Tuesday the Supreme Court blocked a challenge to it.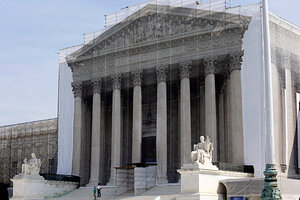 Alex Brandon/AP/File
The US Supreme Court on Tuesday ruled that a group of lawyers, journalists, and human rights researchers lack the necessary legal standing to challenge the constitutionality of a 2008 counterterrorism law authorizing the US government to intercept and analyze massive amounts of telecommunications transmissions.
In a 5-to-4 decision, the high court said that the individuals were relying on speculation and fear of possible surveillance under the US program and were unable to demonstrate that they faced an actual or imminent injury.
Under Supreme Court case law, legal standing is established if a party suffers an injury that must be "concrete, particularized, and actual or imminent; fairly traceable to the challenge action; and redressable by a favorable ruling."
"Respondents' speculative chain of possibilities does not establish that injury based on potential future surveillance is certainly impending or is fairly traceable to [the federal statute authorizing the surveillance]," Justice Samuel Alito wrote for the majority justices.
In a dissent, Justice Stephen Breyer took issue with the majority's use of the words "certainly impending."
"We need only assume that the government is doing its job (to find out about, and combat, terrorism) in order to conclude that there is a high probability that the government will intercept at least some electronic communications to which at least some of the plaintiffs are parties," Justice Breyer wrote.
The decision blocking the lawsuit drew immediate criticism.
---