Is Massachusetts more racist than Mississippi, as Chief Justice Roberts hints?
In deciding whether to strike down a portion of the Voting Rights Act, the Supreme Court is focusing on whether the South has redeemed its racist history. Massachusetts, though, has a quibble with Chief Justice Roberts.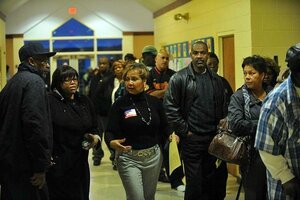 Kent D. Johnson/Atlanta Journal-Constitution/AP
Massachusetts officials came out swinging this week after Chief Justice John Roberts argued in a hearing on the constitutionality of a part of the Voting Rights Act (VRA) of 1965 that Mississippi may be more sensitive to black voting rights than Massachusetts.
That's important because Mississippi, often derided as a backward backwater due to its ugly racial history, has to run any changes to its voting laws by the US Department of Justice (DOJ), while Massachusetts, broadly seen as a paragon of the enlightened North, does not.
The argument cuts to the bone of what's in front of the Supreme Court in the case of Shelby County, Ala. v. Holder: Should the South continue to be punished for its past racism despite evidence that those days are gone, or is there another, broader imperative that Section 5 protections are necessary to guarantee the franchise for all Americans?
Section 5 requires that nine states and many other jurisdictions, mostly in the South but also including parts of the Bronx (N.Y.), "pre-clear" voting law changes with the US Justice Department due to evidence of past disenfranchisement.
---