Kwame Kilpatrick guilty: For destitute Detroit, downfall of ex-mayor complete
Kwame Kilpatrick, once seen as a fresh hopeful face for Detroit when he became the financially troubled city's youngest mayor, was found guilty of enriching himself while in office.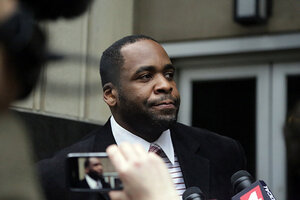 Ryan Garza/Detroit Free Press/AP
Former Detroit Mayor Kwame Kilpatrick was found guilty Monday under federal corruption charges of scheming to enrich himself and his close confidants during his tenure in public office.
The verdict, which was announced after 15 days of jury deliberations, concludes a saga that has gripped the destitute city for over two years and represents the staggering downfall of Mr. Kilpatrick.
Kilpatrick, the youngest mayor in Detroit's history, was once heralded as a fresh face to politics in the city, which is saddled with a staggering debt and has seen its industry, population, and tax revenues plummet and its crime rate soar.
The tales of personal excess resulting from systemic graft arrives one day before the city tries to make a last-ditch attempt to fight the takeover of its troubled finances by an emergency financial manager. Michigan Gov. Rick Snyder says that decades of corruption and mismanagement have created a financial burden for the city it cannot handle on its own and that the only way out is to cede temporary control to the state, which will allow it to create structural changes that would lead it to solvency.
The five-month trial dates back to December 2010 when Kilpatrick, his father Bernard Kilpatrick, his childhood friend Bobby Ferguson, and former water department director Victor Mercado were charged with 45 counts of racketeering conspiracy, bribery, extortion and tax evasion.
Kilpatrick was convicted on 24 of 30 counts. On three counts, he was found not guilty, and on three no verdict was reached. Mr. Ferguson was convicted of 9 of 11 counts. Bernard Kilpatrick received a conviction of a lessor tax charge. Mr. Mercado struck a plea deal in November and awaits sentencing.
The primary thrust of the government's case, which resulted from a six-year investigation, was that all four conspired in what prosecutors described as "the Kilpatrick enterprise," a multi-year extortion scheme to strong-arm city contractors working for the city's water and sewerage department to funnel a total of $84 million in city contracts to shell companies operated by Mr. Ferguson.
---