Drone documents case: federal appeals court rules against CIA
Judge rejects CIA argument that it had no 'interest' in lethal drone strikes. He called the CIA argument neither logical nor plausible, since US officials have acknowledged involvement.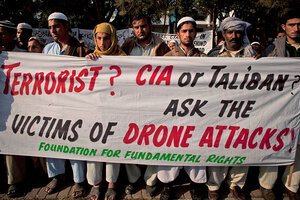 B.K. Bangash/AP/File
A federal appeals court on Friday ordered the Central Intelligence Agency to respond to a Freedom of Information Act request seeking documents related to the use of drone aircraft in targeted killings overseas.
The CIA had initially responded to the Jan. 2010 FOIA request by stating that it would neither confirm not deny the existence of any documents at the agency related to the secret program.
A federal judge accepted the argument and dismissed the FOIA request in Sept. 2011.
The American Civil Liberties Union, which filed the request, appealed.
The appeals court decision sends the case back to federal court where the CIA will be required to present a list of documents potentially relevant to the ACLU's request.
The decision doesn't mean the ACLU will necessarily gain access to any or all documents.
But the decision is significant in a broader way.
"This is an important victory. It requires the government to retire the absurd claim that the CIA's interest in the targeted killing program is a secret, and it will make it more difficult for the government to deflect questions about the program's scope and legal basis," ACLU Deputy Legal Director Jameel Jaffer said, in statement.
"It also means that the CIA will have to explain what records it is withholding, and on what grounds it is withholding them," Mr. Jaffer said.
The ACLU request for information was made in an effort to shed light on America's lethal drone program. The lawyers want the agency to reveal when and where drones are being used, and who is being targeted.
They are also seeking information about how the government is guaranteeing compliance with international law against extrajudicial killings.
In its decision on Friday, the three-judge panel of the US Court of Appeals for the District of Columbia Circuit rejected the CIA's argument that it was under no obligation to reveal the existence of drone-related documents at the agency.
---