Supreme Court rejects environmentalists' plea: why Scalia dissented
The Supreme Court ruled 7-1 against environmentalists' bid to force the EPA to regulate runoff from logging roads. But how federal agencies' rules are interpreted needs to be reviewed, Scalia warned.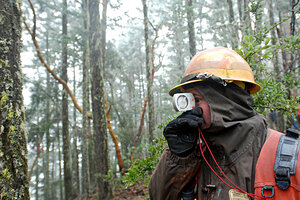 Jeff Barnard/AP/File
Logging companies do not need a federal permit regulating rainwater flowing off logging roads in an Oregon state forest, the US Supreme Court ruled Wednesday.
The 7-1 decision appears to have set the stage for a future high court showdown over the extent of judicial deference due when a federal agency interprets its own rules.
Wednesday's opinion ends a legal battle first launched in 2006 by the Northwest Environmental Defense Center.
The environmental group sought to force the Environmental Protection Agency to take action against the logging company, Georgia-Pacific West, for storm-water runoff that carried heavy sediment into two rivers flowing through Oregon's Tillamook State Forest.
The group said EPA regulations cover the runoff, and that the agency was ignoring its own rules. EPA officials disagreed.
A federal judge dismissed the lawsuit. But a panel of the Ninth US Circuit Court of Appeals reversed, ruling with the environmental group that storm-water runoff fell within the ambit of EPA regulations.
In response to the appeals court decision, the EPA issued amended regulations to clarify that storm-water runoff from logging roads was not a form of industrial pollution and thus did not require a permit.
Writing for the court, Justice Anthony Kennedy said courts generally defer to a federal agency's interpretation of its own regulation.
"It is well established that an agency's interpretation need not be the only possible reading of a regulation – or even the best one – to prevail," Justice Kennedy wrote in the 16-page decision.
"When an agency interprets its own regulation, the Court, as a general rule, defers to it unless that interpretation is plainly erroneous or inconsistent with the regulation," he said. "The EPA's interpretation is a permissible one."
In a 12-page dissent, Justice Antonin Scalia said the court had ignored the clearest and fairest reading of the EPA regulation. Under that reading, logging companies would be required to obtain an EPA permit governing storm-water runoff from logging roads, he said.
---