On Prop. 8, Supreme Court gives few hints of sweeping gay marriage ruling
Supreme Court arguments on Prop. 8 were at times pointed, but the justices often seemed tentative, giving the impression that their decision in the gay marriage case might not be broad.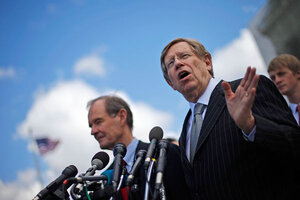 Pablo Martinez Monsivais/AP
A sharply divided US Supreme Court heard oral argument on Tuesday in a potentially historic case examining the constitutionality of a 2008 statewide ballot initiative that banned same-sex marriage in California.
During the 80-minute argument, the justices appeared to separate along traditional liberal-conservative lines, with Justice Anthony Kennedy in the center of the court.
The argument session included some tough, hardball questions, but overall the justices seemed tentative and reluctant. It did not have the feel of a court preparing to issue a landmark decision.
At one point Justice Kennedy, while struggling to identify a way to resolve the case, suggested that perhaps the case should be dismissed.
"The problem with this case is that you are really asking … for us to go into uncharted waters," Kennedy said.
The contested measure, known as Proposition 8, reversed a California Supreme Court ruling five months earlier that had, for the first time, recognized a right of gay men and lesbians to marry.
The Prop. 8 case, and a similar challenge to the federal Defense of Marriage Act scheduled for argument on Wednesday, have become flashpoints in the nation's culture wars. The high court showdown marks the first time in more than 40 years that the justices are being asked to examine what limits, if any, the Constitution imposes on the government's power to restrict who can – and cannot – get married.
Currently, nine states and the District of Columbia recognize same-sex marriage. Eight others grant gay and lesbian couples rights under civil partnerships.
In contrast, 31 states have amended their constitutions to ban same-sex marriage – including California via Proposition 8. A handful of other states passed statutes banning the practice.
A personal right?
---