James Holmes plea rejected: Are prosecutors prepping for death penalty?
James Holmes would have pleaded guilty had he been spared death, but the proposal was rejected by prosecutors – another sign they might be preparing to seek the death penalty.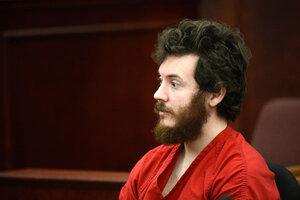 RJ Sangosti/Denver Post/AP/File
Prosecutors are rejecting a plea agreement proposed by defense attorneys for James Holmes, the primary suspect in the mass shooting at a movie theater in Aurora, Colo., that killed 12 and injured 70 last July. The agreement proposes a guilty plea if Mr. Holmes does not receive the death penalty.
Without a guilty plea from Holmes, his mental health would likely be the big question mark in a potential trial. Indeed, prosecutors said in court documents Thursday that the plea they rejected was "a calculated attempt" by the defense to convince the public that the criminal insanity defense has merit.
At an August hearing immediately following the shooting, Holmes's attorneys told a judge that his client was mentally ill and time was needed to assess the extent and nature of his illness. There were also references to a notebook the former University of Colorado graduate student shared with a school psychiatrist, in which he portrayed violent acts.
Prosecutors have long argued the notebook should be made trial evidence, but the defense says it is protected by physician-patient privilege. In a court document filed Thursday in Denver, prosecutors are accusing the defense of refusing to cooperate with document requests.
"The defendant knows that he is guilty, the defense attorneys know that he is guilty, and that both of them know that he was not criminally insane" is the inevitable conclusion of his crimes, they said.
---