Supreme Court refuses e-mail privacy case, leaving divergent opinions intact
Does federal privacy law protect personal e-mail from prying eyes? Lower courts conflict, but the Supreme Court on Monday declined to take a case that might have clarified the extent of protections.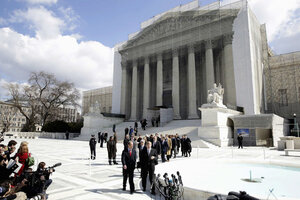 Joshua Roberts/Reuters
The US Supreme Court declined on Monday to take up a case testing to what extent personal e-mail is protected by federal privacy law.
Most Americans believe that their private e-mail accounts are at least as secure from prying eyes as paper-based snail mail that arrives at their front doors. It is not.
The federal privacy law governing e-mail and digital communications was passed in 1986, long before Internet-based e-mail became an essential form of personal communication in the US.
The appeal in Jennings v. Broome (12-831) was asking the high court to resolve divergent judicial opinions, one released by a federal appeals court in California and, most recently, one announced by the South Carolina Supreme Court. By refusing to take up the case, the justices are allowing the divergent opinions to remain in place. Sometimes this is done to permit a more suitable case to arrive at the high court. The justices did not explain why they rejected the case.
The e-mail privacy issue arose in a South Carolina case involving marital infidelity. Gail Jennings found a card for flowers in her husband's car. She couldn't recall receiving flowers. When she confronted her husband about it, Lee Jennings confessed that he'd fallen in love with another woman. Mr. Jennings admitted that he had been corresponding with the woman via e-mail, but he refused to reveal her name.
---