Boston bombing interrogation: Will prosecutors have a Miranda problem?
The government has cited public safety in its decision to question Dzhokhar Tsarnaev, the alleged Boston Marathon bomber, for 16 hours before reading him his Miranda rights. Legal experts differ on whether that's OK.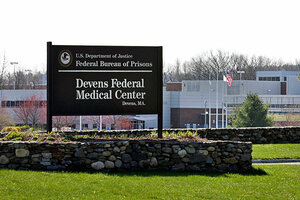 Elise Amendola/AP
The Federal Bureau of Investigation questioned alleged Boston Marathon bomber Dzhokhar Tsarnaev for 16 hours over two sessions without telling him he had the right to remain silent and to not implicate himself.
The FBI's legal rationale for the long questioning period: It needed to find out if public security was at risk, perhaps because more bombs were planted or a collaborator was on the loose.
Was the government's questioning excessive? And might it have some impact on the case?
Judging by the responses of some criminal defense lawyers, the government appears to be right on the line of what is permissible under the law – in terms of the amount of time involved and possibly the type of questions asked.
However, it's hard to know how long it will take to get information that may be necessary to protect the public, former prosecutors say.
"It does not seem unreasonable to question Tsarnaev for that period of time," says Thomas Dupree, a former deputy assistant attorney general and now a partner in Washington law firm of Gibson, Dunn & Crutcher. "Public safety is paramount here. Law enforcement has to have time to ask questions."
But 16 hours of questioning seems excessive to Tamar Birckhead, a former federal public defender in Massachusetts and now an associate professor of law at the University of North Carolina at Chapel Hill.
"In the past, it was interpreted as five minutes. Then 50 minutes was found to be fine," Ms. Birckhead says. "But 16 hours definitely seems beyond the pale."
Both sides acknowledge that the so-called public safety exception is vague.
---