Michael Jackson wrongful death trial opens: Were tour organizers to blame?
Michael Jackson died in part because the organizers of his 'This Is It' tour were irresponsible taskmasters, the family alleges in its wrongful death suit. But that might be hard to prove.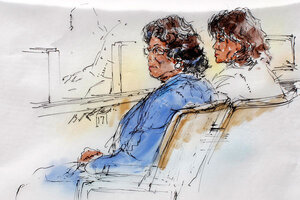 Bill Robles/Reuters
The Michael Jackson wrongful death trial – which has begun with opening arguments Monday in a small Los Angeles courtroom – pits the family of one of the world's richest and most beloved pop stars against one of the world's largest entertainment companies.
Because of the nature of the case, it could bring out more detail than the previous trial connected to Mr. Jackson's death, in which Conrad Murray was convicted of involuntary manslaughter. He is currently serving a four-year sentence. Moreover, the trial could be more broad-ranging in touching on how Jackson reacted to child-molestation charges against him, his drug use, and his finances.
Unlike Dr. Murray's trial, however, which was broadcast live in the United States, the civil case will play out without cameras in a courtroom with only 45 public seats.
The trial could last months and promises a long list of celebrities including Diana Ross, Quincy Jones, Spike Lee, and Prince. Both of Jackson's ex-wives, Lisa Marie Presley and Debbie Rowe, are also listed as potential witnesses.
---