Lawyers who defend terror suspects have thankless task. Why do they do it?
The defense team for Boston bombing suspect Dzhokhar Tsarnaev includes several lawyers experienced in terrorism cases. It takes a certain kind of lawyer, it seems, to represent accused terrorists.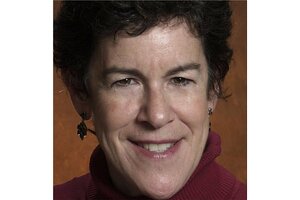 Courtesy of the Federal Public Defender's Office / AP
Defending an accused terrorist in court isn't for everyone, but the lawyers signing on to protect the legal interests of Dzhokhar Tsarnaev, the remaining living suspect in the Boston Marathon bombing, are experienced defenders who know what they are getting themselves into.
Leading the team is the tenacious and detail-oriented Miriam Conrad of the Federal Public Defenders Office, which represents people charged with federal crimes who can't afford a lawyer. She has so far added three experienced defense lawyers – two of them public defenders – to her team, including, on Monday, Judy Clarke to help in the death penalty aspect of the case.
Ms. Clarke is best known for her 1994 defense of Susan Smith, who was sentenced to life in prison, not death, for murdering her two children in Atlanta. She has also defended "Unibomber" Ted Kaczynski and, more recently, Jared Loughner, who has pleaded guilty to 19 charges of murder or attempted murder in the 2011 mass shooting in Tucson, Ariz.
Ms. Conrad, too, has some experience with terrorism suspects. She helped defend Richard Reid, the so-called shoe bomber, who is serving a life sentence for the 2001 attempt to blow up a plane using explosives in his sneakers. And last fall she defended Rezwan Ferdaus, who received a 17-year sentence for plotting to blow up the Pentagon using remote-controlled model planes.
---