Jodi Arias case: What's trend line on women getting the death penalty?
Among male murderers in the US, a smaller share has been drawing the death penalty in recent years. That's not so, though, for women killers. How societal views may factor into sentencing in instances such as the Jodi Arias case.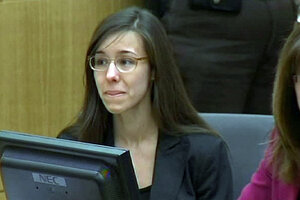 APTN/AP
Whether Jodi Arias gets her wish – to be executed rather than spend her life in prison – is now up to the Arizona jury that on Wednesday found her guilty of brutally murdering her one-time boyfriend, Travis Alexander, in a jealous rage on June 4, 2008, in a Phoenix suburb.
The jury must consider whether the cruelty, brutality, and depravity of her attack on Mr. Alexander deserves a sentence of death, a finding that would make Ms. Arias the fourth woman to be awaiting execution on Arizona's death row. (The state has not executed a woman since Eva Dugan, a cabaret dancer, was hanged in 1930.) Against that possibility, jurors will weigh potential mitigating circumstances, such as Arias's allegations of abuse, which she outlined at length during the trial.
Largely because of an unedited video stream from the Arizona courthouse, incessant Twitter chatter, and cable news coverage about the case, the Arias trial took on the air of a celebrity procedural, with enough characters, drama, gore, betrayal, and lies to compete as a daytime soap opera for millions of Americans. The sentencing phase could take weeks.
The Maricopa County jury will deliberate against a backdrop of evolving societal views about female murderers. On one hand is a somewhat chivalrous sense that women are not capable of brutality at the same level as men and resort to it under extenuating circumstances – such as sexual abuse that Arias claimed at the hand of her victim. On the other is a sense that women can indeed be cold-blooded killers who are every bit as deserving of execution as male murderers.
---